Published February 23, 2016
IT. IS. HERE.
In 2012 the visual novels Cinders by Moacube won international acclaim and a bunch of awards from various gaming sties. And while Moacube has been busy with other projects, making another visual novel was always a goal. And now, at last, Solstice is upon us. I played and thoroughly enjoyed the demo a few years ago and I couldn't be more hyped with playing the full edition. For everyone else not following along, here's the synopsis;
An exotic city in the middle of a frozen wasteland, cut off from the world by raging blizzards. Inhabited only by a small group of misfits, who either can't or don't want to leave for the dead winter season. When the local archaeologist goes missing, an ambitious doctor on a contract and a mysterious young woman, who arrived with the last dog sled caravan, start asking questions. What begins as an innocent investigation to pass the time, may end with the cold wasteland finally claiming the proud Jewel of the North.
GET. SOLSTICE. I can comfortably say that without even finishing this VN.
Speaking of turbo hype: DANGANRONPA.
For years, your's truly has watched the cult following build around this title and I probably would've played it if I owned a PS Vita or PSP. A lot of that I credit with being a die-hard Xbox fanboy for the last five years but now, I have no excuse as Spike Chunsoft has brought the first chapter of this bloody romp, Trigger Happy Havoc, to Steam! To the synopsis:
Hope's Peak Academy is home to Japan's best and brightest high school students—the beacons of hope for the future. But that hope suddenly dies when Makoto Naegi and his classmates find themselves imprisoned in the school, cut off from the outside world and subject to the whims of a strange, murderous little bear named Monokuma. He pits the students against each other, promising freedom to anyone who can murder a fellow classmate and get away with it.

It's up to you to find out who Monokuma really is, and why you've been taken from the world you once knew. But be careful what you wish for—sometimes there's nothing more deadly than the truth…
You can get Danganronpa: Trigger Happy Havoc for $23.99 until February 25th, then'll it'll go back to $25.99. Get more information about this game here.
One of the surprising visual novels I played last year was Brilliant Shadows by Ithaqua Labs. While I do have a few issues with it, it was none-the-less a very entertaining fantasy tale. The group seems focused for developing the universe for the time being with Embers of Magic. Here's the synopsis:
Embers of Magic is a short, adventure visual novel that tells the story of Liana the witch. She takes an airship down to the surface of the dangerous and corrupt earth beneath her flying city home. It is set in the same world as Brilliant Shadows, but happens 300 years beforehand.
You can get Embers of Magic on Itch.Io and name your own price. Get more information here!
We Are Muesli are having a busy 2016. We've already seen the successful translation and release of Venti Mesi: a visual novel commemorating the Italian Civil War. Now they've released The Great Palmero which, according to them, is a 'interactive ballad about street food, folklore and transformations in the city of Palermo, Sicily'. A visual novel about Italian street food? WIN. Here's the synopsis:
In the beginning is a kid, in a pink, chalky, tangled, scraped and hungry city. Then, a celebration of diversity, creative chaos and cosmic madness through times, places, stories, characters, and secrets to discover.
We are big fans of We Are Muesli here and we are definitely looking forward to playing this one. You can get The Great Palmero for free on Itch.Io.
Otome games have escaped my notice when they first release in the past, but this one is using a formula that is starting to leak over from mobile games and should be discussed more. What is that formula? That they can make the first chapter of the game free and then sell the separate romantic routes as DLC. RoseVerte is currently employing something similar with their East Tower title and now we have Mystic Destinies: Serendipity of Aeons. I haven't made up my mind on this particular strategy, so let's just go to the synopsis and see what this one has to offer.
During your first year of university, immense magical powers are forced onto you, thus revealing the supernatural world hidden within ours. But you must learn to control your powers with the help of a partner or risk destroying everything around you. Will your new fate be one of tragedy or serendipity?
So, as I said, you can get the first chapter of the game for free on Steam. Currently, only one romantic route for a character named Shou is available for $4.99. With five male targets, plan your romantic interludes accordingly.
After months of anticipation, MangaGamer has released Kindred Spirits on the Roof. Normally that wouldn't cause much fanfare, but the game has been released onto Steam completely uncensored which makes many fans of more sexually explicit games hopefully that this is the beginning of their own works or personal favorites being released uncensored onto the platform. I discussed the demo for Kindred Spirits and if you're considering this title, I would highly recommend either playing the demo first or reading my impressions. Either way, let's hit up the synopsis:
During lunch one day, Toomi Yuna meets two "Kindred Spirits" on the roof of her school. When they insist she help them nurture young love, Yuna finds herself playing "yuri cupid" to six unique and adorable couples. Can she remain aloof or will the promise of a "yuritopia" reach her too?
Kindred Spirits on the Roof is available for $34.99. While you can get it on MangaGamer or Steam, due to current issues with MangaGamer, I highly suggest the Steam version.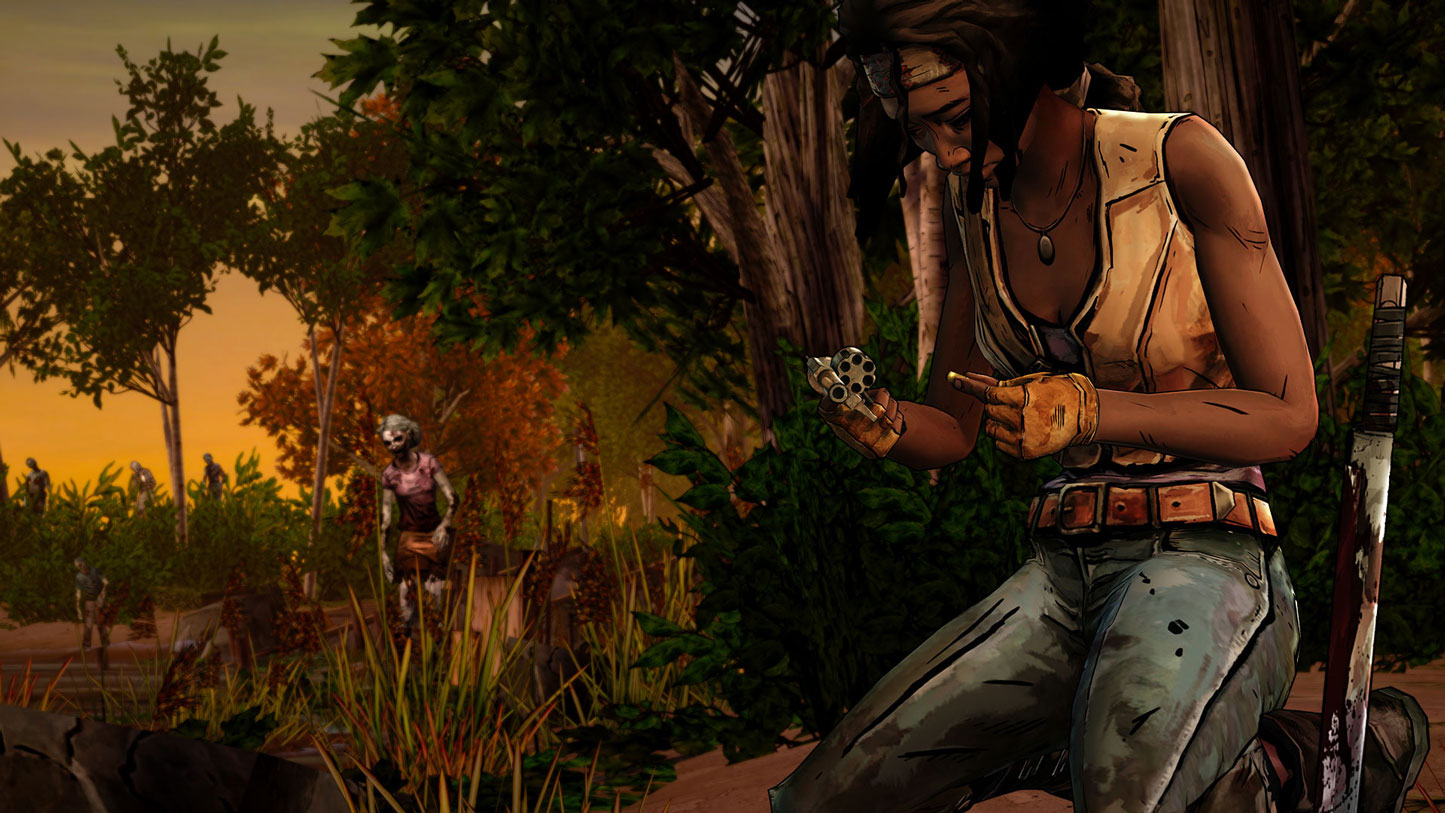 What can you say about the Telltale Walking Dead series that hasn't already been lavished onto them? Multiple industry awards, the distinction of bringing both episodic and narrative-driven gaming into the limelight and single-handedly making the majority of YouTube cry when Lee died are just some of their accolaides. While Telltale has grown since the first season of their crown jewel, including a Batman narrative game that I want to play RIGHT NOW, it is still the one that defines them as a company. But before we get to Season 3, Telltale has decidedly to produce a miniseries featuring one of the most popular characters of the television series; Michonne. Here's the synopsis:
The Walking Dead: Michonne – A Telltale Miniseries stars the iconic, blade-wielding character from Robert Kirkman's best-selling comic books. Haunted by her past, and coping with unimaginable loss and regret, the story explores Michonne's absence between issues #126 and #139 of the comic book.
HusbandoGoddess, who you may know for her visual novel Let Play videos, is doing a series on this as well as my go-to YouTube Let's Play channel ThaRadBrad. Either of those should scratch the itch of those waiting for all of the episodes to release before playing it. If you want to start now though, you can get more information on purchasing The Walking Dead: Michonne on the Telltale website.
Finally this week, after a slight delay that produced in one of the worst visual novels I played last year (Nekopara Volume 0), Nekoworks and Sekai Project have finally unleashed Volume 2 to the catgirl-hungry masses. Let's go to the synopsis;
Business is booming for La Soleil, the patisserie run by Kashou Minaduki with his two catgirls, Chocola and Vanilla, his sister Shigure, and the Minaduki family's four catgirl sisters.Among them are the sarcastic oldest sister who hides behind a facade of toughness, Azuki, and the clumsy youngest sister who always tries her best even if she ends up doing more harm than good, Coconut. No one got along better than these two catgirls when they were younger, but lately, they've been fighting all the time.

Despite their sisterly love, a small misunderstanding ends up driving a wedge between them. As the story of these catgirl sisters unfolds, they'll grow to understand each other and strengthen their familial bonds in this heartfelt catgirl comedy, which is only a little lewd. Now open for business!
…I'd honestly rather watch that NBC Peter Pan performance on a loop than sit through this saccharine pap again, but if you are interested in joining the catgirl paradise/neko-master race you can get more information about Nekopara Vol. 2 here.
And that's all for now! This has been JP3 reporting for VNN.