Published April 4, 2016
Well folks we've made it to April. NaNoRenO is in the books with a few developers still hard at work. I'll be getting into the completed games on April 8th: the cutoff day on the Itch.Io NaNoRenO page. You can keep track of the entries (as of today we have forty-eight entries) there. In the meantime, let's talk about the non-NaNo projects that have been released in the past few weeks!
At the top of the list is IDHAS. Chief and crew have a busy year ahead of them with Order of Ataraxia and Rising Angels: Fates still waiting in the wings. The first priority has been to get the backstory of Faye and her friends correct after the lukewarm Rising Angels: Red Rose. The reboot, Rising Angels: Hope, released its first episode last month and is planning to be wrapped up before the end of April. This past weekend, we got the second episode so let's get to the synopsis;
Faye's adventure at the Space Sector Academy continues as mysteries around her friends start to brew. Can she express her heart? Can she find the truth behind what is being plotted? It's time to find out!
Rising Angels: Hope is available for $14.99 on Steam.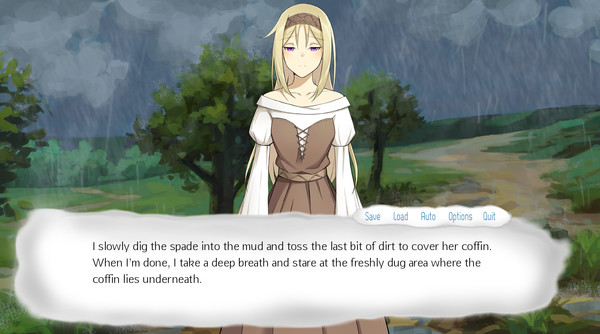 For those like me who haven't gotten enough bleakness in their literary diet, Afterthought Studios has got us covered! Welcome to Forgotten, Not Lost; a kinetic novel that deals with mental issues. Here's the synopsis;
Forgotten, Not Lost comes from the creators of A More Beautiful World and is a kinetic novel that tackles the theme of dementia and is a visual novel that hopes to bring tears into our readers' eyes, especially those who have gone through similar situations when dementia or Alzheimer's has claimed the memory of a loved one.
Forgotten, Not Lost is available for $1.99 on Steam.
One of the most popular episodic games of 2015 was Life is Strange from Square Enix and DONTNOD. While I still have to complete the series, I have enough people in my ear both online and in person tell me that they've enjoyed every second of it. And considering we have popular story with teenagers and angst, fanworks were never far behind. Hence, Love is Strange. Here's the synopsis:
Love is Strange is a visual novel taking place in an alternate universe of Life is Strange that lets you take control of of Max Caulfield once again, now in her second year at Blackwell Academy. Max has spent the last year reuniting with her best friend, Chloe Price, and meeting and getting to know the other students at Blackwell, like Kate Marsh, Rachel Amber, and Victoria Chase.
Here's hoping they do the original work justice. Love is Strange is available for free on its development blog.
Now for the latest imports, MangaGamer has released yet another on its list of highly-anticipated Japanese licenses; Tokyo Babel. Originally released in 2012 by propeller, Tokyo Babel was first announced last year as a continued push by MangaGamer to diversify its catalog as it pushes onto Steam. Here's the synopsis:
The gates of Heaven are closed shut; the realm of Hell consumed by flood. And in their wake, countless parallel worlds wither away, one after the other. The surviving angels and demons gather at the city they believe to be their final chance at salvation: the floating purgatory of "Tokyo Babel". Joined by humans, they embark on a pilgrimage across the seven layers of Babel, hoping to ascend Jacob's Ladder in an effort to re-open the gates of Heaven.Their journey would be an atonement toward the heavens.
Tokyo Babel is available on Steam for $34.99 (currently on sale for $29.74).
Moving on we have a mystery title brought to the West by Fruitbat Factory. After some brief research, Fruitbat Factory is responsible for bringing the puzzle game 99 Spirits and War of the Human Tanks over from Japan. Magical Eyes – Red for Anguish looks to be their first visual novel localization, so we definitely wish the group luck. Here's the synopsis:
In the middle of the night on a certain day of April 201X, the left arm of the owner of a general store is chopped off in the backyard of his own store. Even though he claims that the perpetrator is a 'doll' that was kept in the store, his words carry little weight due to the lack of other witnesses. The doll and the detached arm are gone from the scene of crime. This is a mystery story about bizarre incidents unfolding around the town, intermingled with a complicated mixture of human intentions.
Magical Eyes – Red for Anguish is available on Steam for $14.99 (currently on sale for $13.49).
Moving back into the OELVN realm, we have One Thousand Lies from Keinart. Billed as a comedy, as well as dealing with 'high school' and 'romance' themes, there is no real official synopsis I can find for the game. The introduction on its store page is handled tongue-in-cheek and allows the potential players to get a feel for the characters. For those who are interested, I would give it a look here and see if it fits into your interests. Other than that, One Thousand Lies is available on Itch.Io and you can name your own price.
Next up we have another kinetic novel dealing with teenage girls and horror. Lost Girl's [Diary] deals with some familiar themes, but hopes to offset it with its own awareness and characters. It even says in the description on the story page that its horror stories could really only scare small children. With that in mind, let's take a look at the synopsis:
A group of girls are having their vacation, alone. What would a group of girls do on a dark Christmas night? Of course, fortunetelling! Unfortunately for them, their boyfriends are not about to leave them alone and their sudden visit totally ruins their plans for fortune telling, turning it into a scary story.
Lost Girl's [Diary] is available for free on Steam.
Dipping into history we have a RPG/Visual Novel hybrid called I Am Caligula. On this one, I think I'll let the price speak for itself. Here's the synopsis:
The game follows the real life events of the late Roman Emperor Caligula and his dear sister Drusilla during his short reign. You will explore Rome and deal with the senate while living the life of a Emperor.
I Am Caligula is available for $0.99 on Steam. And yes, I'm going to figure out how to get Tenarium to play it.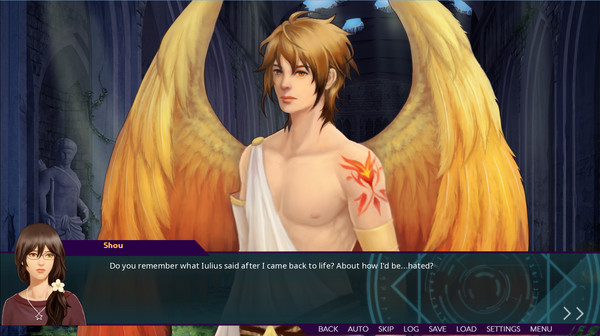 Finally this week, we have the continued adventure of Mystic Destinies. While the game itself is contained, each romantic route has an epilogue that has been split off into DLC. The first character to get Epilogue DLC is named Shou and while there are some mild spoilers in the synopsis, I don't think it's enough to ruin anything. So, here we go:
It's been five months since the incidents at Caro mansion. Your relationship with Shou is going well and you even bring him along to meet your family. But there are still some things you feel Shou is keeping from you about his new life. An incident ends up bringing the two of you closer, but it may also serve as a dark omen for the future…
Since this is DLC, you have to have the original Mystic Destinies already purchased to play it. If you do, you can get Shou's Epilogue for $1.99.
And that does it to start off the month! This has been JP3 reporting for VNN.